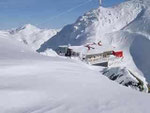 Welcome to the Glungezer hut

Hut for mountain-, trekking- and skitour, mountain paths seal of approval, winter season until April 12, cookery at the highest level, access with cable car Glungezerbahn. The Glungezerhütte - situated at 2610m – is the highest hut in Tyrol opened summer and winter. We offer you:
30 beds (10 beds in separated rooms, 20 beds in sleeping quarters), shower, WC, dry room, sun terrace with deck chairs, phone, Internet, defibrillator, material ropeway, helicopter landing pad.
Further activities in summer: climbing, many different trails like "Inntaler Höhenweg", "Adlerweg" and other summit tours
Modern alpine association hut on Glungezer-mountain, an excellent base for skiing tours. The Glungezerhütte located at the end of the  Glungezerbahn in Tulfes/Tirol. Rustic alpine hut and a cozy restaurant invite you to step inside. Alpin training centre for your avalanche-training. The Glungezer is home to the longest downhill run in Tyrol, more than 15 km in length! We are looking forward to your visit...  more >>
OeAV Glungezerhütte  A-6075 Tulfes/Tirol .
phone +43/5223/78018  glungezerhuette@glungezer.at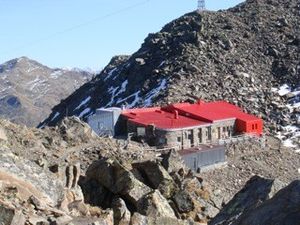 LIZUMERHÜTTE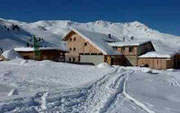 Welcome to the Lizumerhütte in the Tuxer Alpen

The hut "Lizumerhütte" is situated in the middle of the tuxer alps
The hut was totally reconstructed during 2006/07 and offers you many services: daily avalanche warning service, accurateweather informations via satellite, a library, large sun terrace, bouldering and climbing inside and in front of the hut.
Modern alpine association hut in Lizum, an excellent base for skiing tours. The Lizumerhütte located at the end of the Wattental valley south of Wattens/Tirol. Alpincentre for your avalanche-training. We are looking forward to your visit... more >>
contact and information: Alpenvereinshütte Lizumerhütte
A-6113 Wattenberg /Tirol
phone +43/5224/52111   info@lizumerhuette.at