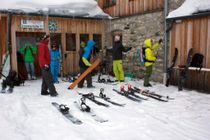 30 Snowboarder aus Österreich, Deutschland, Tschechien, Italien, Holland und Amerika haben nach der ISPO die Lizumerhütte besucht . Einhelliger Kommentar der Teilnehmer: super Hütte, super Bewirtung, preiswert, super Gelände und glücklicherweise: super Schnee. Mit dabei u.a. Jeremy Jones, Inhaber der gleichnamigen Snowboardfirma als Veranstalter und weltweit wohl einer der bekanntesten tourengehenden Snowboarder sowie Mitch Tölderer, Gewinner der Freeride World Tour 2010/2011. 
http://www.splitboarding.eu/de/splitboard-news/after-ispo-split-together-splitboard-fun-mit-jones-und-karakoram

Jones Crew Shreds The Lizumer Hutte
After three weeks of back to back tradeshows, Jeremy Jones and the Jones Snowboards crew were starting to get a little twitchy. It was time to find pow…now!
Racing out of the ISPO tradeshow in Munich, Jeremy and a posse of Jones team riders, distributors and dealers headed into the Austrian backcountry outside of Innsbruck for a pow surf session at the Lizumer Hutte. The Lizumer Hutte is located in the Wattental Valley on a military installation at 2,109 m. Surrounded by stunning peaks, the Hutte made the perfect setting for shredding, socializing and learning more about the limitless potential of splitboarding.
It was a really fun event with low expectations that yielded way better results than anticipated," said Jeremy. "Location was great, snow was great, but the crew was what made the journey all-time." 
Good times deserve good schnapps! Anton Nigg, the Hutte Boss of Lizumer, made sure the Alpine Tequila was flowing steady.
Big thanks to Klaus Zwirner, Anton Nigg, Mitch Toelderer and all the extended Jones family for helping make the trip possible! more 
After ISPO Split-Together, Splitboard Fun mit Jones und Karakoram  more